In my last blog I shared with you that we need a right mindset that works for us. And with that right mindset we can accomplish almost everything we want. We take actions!
I kept on thinking about that for the last weeks and I have been noticing my actions. In all sorts of ways. I made a list of actions I have been taken. What I saw is that not all my actions have been in line with what I am committed to accomplish here on this planet.
The questions I have been asking myself were: 'Do I really want to do this?' and 'Do I need to buy this?' and 'How much do I spend on it?'. 
Here is part of the list that I made: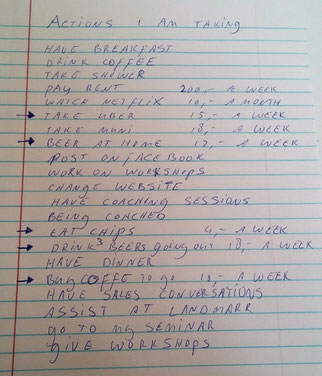 I noticed that some actions do not add any value to my commitments. And some are actually counterproductive. And I am glad to see that there are actions that make a difference as well :-)
This is what I changed already:
No more beer drinking at home (saving 12 dollar a week) and feeling better in the morning! Great for feeling awesome!
I am not eating any more chips during the week (saving 4 dollar) and I only buy coffee to go once a week in stead of 5 times a week (saving 10 dollar).
No more uber rides (allthough very convenient) if I can take a Muni or Bart (saving 15 dollar). And no more than 2 beers in the bar (saving 6 dollar). 
Doing this I am saving 47 dollar a week! Saving 2.444 dollar a year. Which is 3 times a trip to Europe.
What would you do with 47 dollar a week or 2.444 dollar a year? Let me know in a  post below!
And I feel better because I don't get wasted on alcohol and keep on working out!
Do I have a bad life because I changed a couple things? No way. I feel alive!
This is the gold in my expenses, and there might be even more.
Find your gold in your expenses and sign up for the Find Your Gold: Spending Behavior Workshop